The Searches tab is available at the bottom left of the screen, between the Navigation and Tags tab of the left hand panel.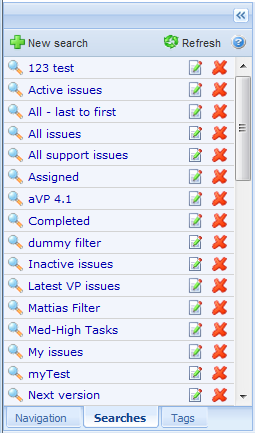 It contains a list of searches/filters available. Just click on the spyglass icon or the name to perform a search and see the search result in a new tab in the main panel.
Click on the edit icon to the right (paper with green pen) to go to the Search page for that search/filter, where you can adjust the search criteria further if you want to, before doing the search. The red X icon deletes the search.
The 'New Search' button opens up the Search page in its own tab, with empty settings.
The 'Refresh' button forces the Searches tab to refresh, such as when you have added a new search/filter, and want to see it in the list on the left.
These seaches can be used by themselves, as portlets on the dashboard or as filters in the issue table.