This is where you add, remove and edit users.
You reach the users page via the "Users" link in the General panel on the left, see below.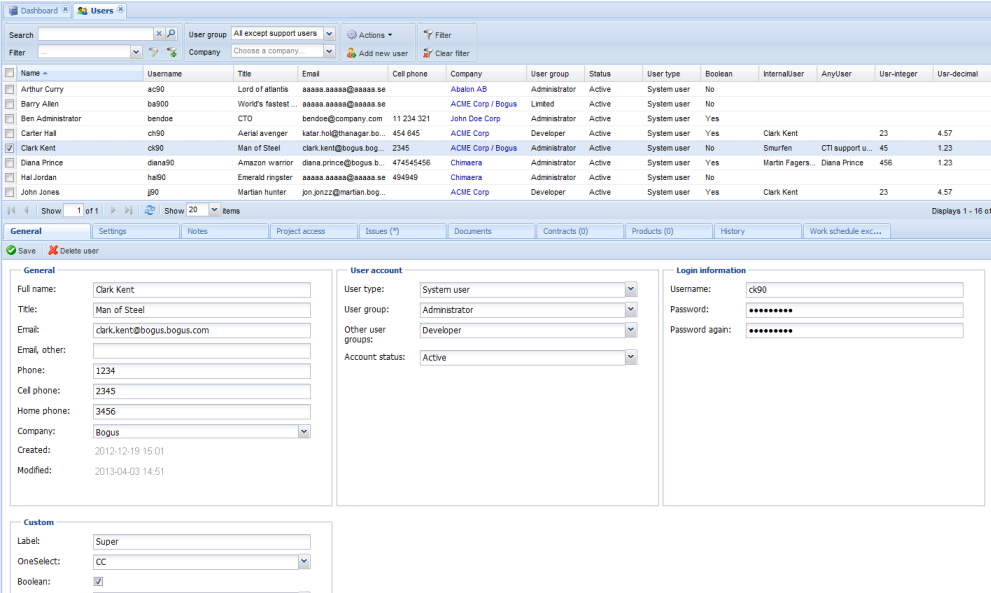 This page contains two major parts - one table grid showing all users, and the bottom section where you have information about the selected user.

Functions in the header toolbar (above the table grid, fields described in sections from left to right):

Search section:
Search - Enter a search criteria, such as part of the user's name or email address, and start searching by clicking on the Spyglass icon (or clicking return). Clicking on the X icon clears the field.
Filter - This combobox shows saved search filters that can be used to filter users. ("..." means no filter selected.)
Edit filter (icon) - If a filter is selected in the above combobox, clicking this opens the edit filter dialog for that filter.
Add filter (icon) - Clicking this opens an emtpy edit filter dialog where you can create a new User filter.
User/Company filter section:
User group filter combobox - Select an user group, to filter out users from just that one group. "All except support users" is the default filter.
Company filter combobox - Select a company, to show users belonging to just that customer company. The default is "All companies".
Action section:
Actions menu - Select users by using the checkboxes in the first column of the user grid/table.


Delete selected users - deletes all selected users in the table.
Merge selected users - this merges selected users into one of the users, which is kept. This is useful when you have duplicate users with some issues each.
Inactivate selected users - inactivates all selected users in the table.
Activate selected users - activates all selected users in the table.
Anonymize selected users - This removes a lot of data from the selected users, but they are not deleted. Read more here: Anonymize users
Change company for selected users - shows a dialog where you can choose a company. Set the selected users as belonging to the chosen company.
Send new password - This will send an email to the selected user with a link where he/she can change their password.
Permissions - the options in the submenus adds, sets or removes usertypes, user groups and/or project accesses for the selected users.

Show inactive users - this check box toggles whether you want to show all users (including inactive users) or just active users. Default is showing active users.
Import user/contact data - This opens the dialog for importing users from a .csv file or from an Excel file (.xls or .xlsx). A sample template file is available as well.
Export user/contact data - This opens the dialog for exporting selected users to a number of available formats (xls, csv, xml, pdf and rtf)
Email - Send email to the selected users. You can choose from which project you want to send the email.

Add new user - This button opens up an empty user info section at the bottom half of the page, where you can create a new user and save.
Filter section:
Filter - clicking this will show the filter toolbar in the user grid. This allows you to filter users on individual columns on the fly.
Clear filter - clicking this clears the filter selections in the toolbar, showing all issues again

The table shows the columns: Name, Username, Email, Phone, Company, User group, Status by default. (Home phone, Cell phone and User type can be shown as well.) Sort on a column by clicking on the column head. Click on the small arrow in each column header to change sorting or column layout - including which columns to show)
Clicking on a user will show its info in the bottom user info section.
Clicking on a company name opens its view in the Company page.

Table/Grid Footer: This contains pagination functions (next/prev buttons et.c..), as well as a refresh button and a page size dropdown menu.

The User Info section consists of several tabs with information and settings regarding the user(Remember, you need correct permission to see all tabs.):
General - Contains user info in three sections (Four if you use custom fields on Users):

General - Shows full name, title, email address, phone numbers and which company the user belongs to. Also the dates when the user was created and modified.
User account - shows User type, Usergroup (primary), Other User groups and Account status(Active/Inactive)
Login information - Username, and password.
Custom fields - these sections contains custom fields on user. The custom fields and the sections are configured in the account settings (General - Settings - Other configurations - Custom fields - User)

Settings - This contains quite a few settings for the user, most of which are described in the User Profile page.
Notes - Text editor where you can write down notes regarding the user.
Project Access - This shows a list of projects, whether the user has access to them, which user group he/she has in the specific projects (Remember that you can have an user group on the account level, but others in specific projects). You can also edit these settings here as well.

The setting "Show assigned issues only" only gives the user the permission to view issues where he/she is Reporter or Owner.
The setting "Team member" makes the user visible in the 'Owner' issue field dropdown and also in the "User" filter on the Kanban board. ("Team Member" setting is not applicable for support users.)

Issues - This shows issues where the user is owner, reporter. developer, recipient, meeting attendee or subscriber
Documents - This shows all documents attached directly on the user. You can upload, download, edit and delete files and folders here.
Contracts - This shows contracts that the user is attached to. Click on a contract to open it in the Contract page.
Products - This shows Products/Services/Assets/Configuration items that the user is set as owner or user on. Click on a product/Config item to open it in its own page.
Company access - Here you can limit the user to only see things from specific companies. This is only shown if you have permissions to use this function.
Work schedule exceptions - This lists exceptions to the work schedule for the user. These exceptions represent times where the user cannot be at work, like vacations etc.
History - This shows changes made to the user - what the change was, who made it and when.

More information about User management can be found here: