The unified support center allows you to make several support centers available together.
Support centers are project-specific, and sometimes you have several projects to manage your work, but want to publish the information in an easy way without needing to provide customers and interested people with links to multiple support centers - one for each project.
The unified support center addresses this.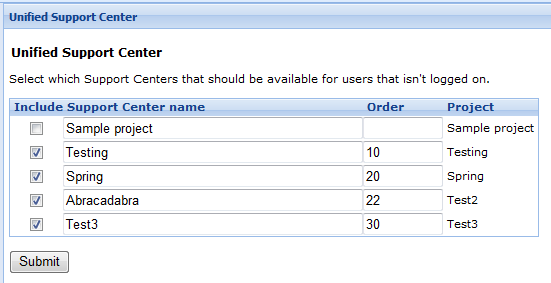 In the settings (General - Settings - Support Center - Unified Support center) you can choose which support centers you want to unify. The list shows all available support centers (that are activated in the project settings). Check "Include" to make the support center part of the unified support center. You can change the name and order of the support centers in the setting as well.

When you open a unified support center, you will notice a dropdown list just below the navigation header. This dropdown will contain links to all the unified support centers. Just select from the list to go to that support center. The dropdown is available in all pages in the unified support center.
When switching support center, you are opening the current page in the other support center.
Note: When the Support centers requires login, and you have logged in, you can see support centers from all unified projects you are a member of. If you have access to support centers that are not unified, you will have to use the direct URL to access them. They will not be shown in the dropdown. If you only have access to one of the unified support centers, you will not see the dropdown at all.
If you want to hide the "Support center" drop down box on top of the screen then add the row below in the top of the header section in the Support center design sub-tab:
#set ($hideUnifiedSupportCenterCombo = true)
Note: This variable is set to true by default in the support center design templates for new projects (meaning the combo for unified support centers is hidden).
If you want to activate unified support centers, you need to change this to
#set ($hideUnifiedSupportCenterCombo = false)