You can change the logotype image in the branding settings if you have the branding module
First, you need to use the Branding module. If you do not, then you cannot change the logotype.
Read more about modules here:
What modules are available in VisionFlow
To find the branding settings, go to:
General - Settings - Other configurations - Branding
In this page, you can do several things, including changing the logotype.
The Classic UI:

You can replace the VisionFlow logotype with your own to hide the VisionFlow logotype by uploading a new file (suggested size maximum 75 px height to fit in smoothly).
Note that files significantly larger or smaller will be resized to fit in, which can distort the proportions The best is to prepare an image beforehand that already has the correct size.
If you have uploaded a logotype of your own, then you get a "delete" button next to it, such as in this test image:

Clicking on the delete button removes the uploaded logo, and reverts to the VisionFlow one.
The Modern UI:
You can add logotypes to the modern UI as well, and those logos are separate from the one in Classic UI. This allows you to have logotypes adapted for the Modern UI (that normally has a dark theme).
To set the logo(s) for the Modern UI, you need to login to the modern UI and open the branding page there.
You change images in the same way, by uploading the new image.

There are two logotype images here. The first is the full logotype, as in Classic UI.
The other is the "mini" logo that is shown when the left side panel is collapsed in the modern UI: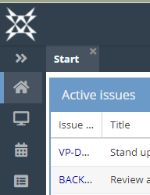 As in the classic UI, the images are resized if they are too large or small, which can distort the proportions and make the image look bad. The best is to prepare versions of your logo that already has the correct sizes ( max height 75 px) before uploading them.