The result from a Saved search can be sent to you by e-mail.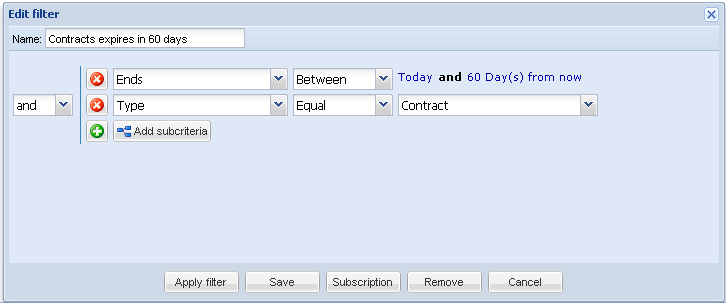 Subscriptions are a way to get results of a search mailed to responsible users, at certain time intervals. You can create a subscription for an existing search/filter by clicking on the link 'Subscription/Filter subscription"' in the menu row straight under the tab row on the Search page. This opens a dialog where you can configure the subscription:
Start subscription at: Enter a date and time when the subscription starts
Ends: Enter a date and time when the subscription ends or choose Never for continuous subscription.
Repeat: How often the search should be performed and mailed to the users. NoRepeat is the default. Other options are Hourly, Daily, Weekly and Monthly (counted from the start date/time).
Schedule task every: This is visible if subscription repeats. You can schedule subscription for example, every other week, monday and friday.
Select users for subscription: Here you can select the users to receive the mail with search results, from a list of all available users. Move the relevant users from the Available users box to the Selected users box - by dragging, or selecting and pressing an arrow button. Note: Subscriptions can only be sent to normal and shared users not support users.
Send empty results: Check this box if you want to send a mail anyway, even if the search gives an empty result (no issues).